February 29, 2016
Thousands of NHS posts lie vacant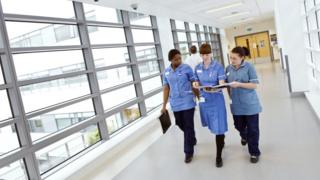 More than two-thirds of trusts and health boards in the UK are actively trying to recruit from abroad as they struggle to cope with a shortage of qualified staff.
Tens of thousands of NHS nursing and doctor posts are vacant.
The figures, obtained by the BBC, show the extent of the NHS recruitment crisis.
Health unions blame poor workforce planning, but officials say the NHS has more staff than ever before.
Data from a BBC Freedom of Information request shows that on 1 December 2015, the NHS in England, Wales and Northern Ireland had more than 23,443 nursing vacancies.
That's equivalent to 9% of the workforce.
69%
of UK trusts are actively recruiting abroad for doctors or nurses
23,443 nursing vacancies in England, Wales & Northern Ireland

9% vacancy rate for nurses

6,207 doctor vacancies

7% vacancy rate for doctors
For comparison, the average vacancy rate across the UK economy from November to January 2016 was 2.7%, according to figures provided by the Office for National Statistics.
Vacancy rates in Scotland are published quarterly and so comparable figures are not yet available.
Increasing vacancies
But 106 out of 166 trusts in England, Wales and Northern Ireland – a slightly smaller sample group – were able to give us the number of vacancies for the last three years.
These figures show that between 2013 and 2015, there has been a 50% increase in nursing vacancies, from 12,513 to 18,714.
For doctors, the number of vacancies went from 2,907 to 4,669 over the same period, an increase of roughly 60%.
In England, many hospitals are having to rely on expensive agency workers to make up the shortfall in staff.
That has been identified as a key factor driving a growing financial crisis within the health service.
One solution to the staff shortage adopted by many trusts is employing doctors and nurses from overseas.
We asked trusts and health boards across the UK whether they were actively recruiting staff from abroad, and in this case Scottish hospitals were also able to answer.
Our figures show that more than two-thirds – 69% – of all NHS trusts and health boards are seeking staff overseas.
If you look at just England and Wales, the figure is nearly three-quarters of all trusts – 74%.
Some are travelling as far afield as India and the Philippines.
Hard to recruit
Our figures reveal that some departments in particular are struggling to find qualified staff.
Vacancies for registered nurses in emergency departments and emergency medicine consultants are particularly high in many hospitals.
In England and Wales, there were 1,265 vacancies for registered nurses in emergency departments, about 11% of the total.
It is a similar picture for consultants in emergency medicine, where there were 243 vacancies, again 11% of the total.
Paediatric consultants – specialists in the care of babies, children and young people – were also hard to recruit, with 221 vacancies, about 7% of the total.
'Poor workforce planning'
The health unions, the Royal College of Nursing and the British Medical Association blame poor workforce planning for the problems hospitals are having in finding qualified staff.
Janet Davies, chief executive of the Royal College of Nursing, says she is concerned over the widening of the gap between the number of NHS staff needed and those who are available.
"Nursing posts are often the first target when savings need to be made, leading the NHS to find itself dangerously short and having to spend more on agency staff and recruitment from other countries.
"The modest increases made in training places are not nearly enough to tackle current problems or the significant challenges facing the NHS over the coming decade.
"Time and again, the NHS finds that failing to train enough staff is its Achilles' heel. The consequences are felt by nurses working under relentless pressure, and they are reflected in the sorry state of NHS finances."
A spokesman for the doctor's union the BMA, currently locked in a dispute with the government in England over a new contract for junior doctors, said the crisis in recruitment was down to a number of factors.
"Poor workforce planning means we aren't producing enough doctors and sending them to the right areas.
"But also there are signs that pressures on the NHS – rising workload, falling funding, salary freezes – means that some doctors are opting for early retirement while newer medical graduates are moving abroad or less inclined to go to rural areas or challenging specialities."
More staff than ever
But in a statement, the Department of Health in England argued there are more nurses and doctors working in the NHS than ever before.
"Staffing is a priority — that's why there are already over 29,600 extra clinical staff, including more than 10,600 additional doctors and more than 10,600 additional nurses on our wards since May 2010.
"There are more than 50,000 nurses currently in training.
"However, we know that much more needs to be done to make sure we continue to have the right number of staff in training and on our wards so patients receive high quality care 24 hours a day, seven days a week.
"That's why we are changing student nursing, midwifery and allied health professionals funding to create up to 10,000 more training places by the end of this parliament."
Danny Mortimer, the chief executive of NHS Employers, which covers NHS trusts in England and Wales, said he was "deeply concerned" about the shortages, and said action to address nurse vacancies must be a priority.
"Whilst measures such as increasing nursing training have been introduced, they take time to come to fruition.
"We need to ensure nursing is included on the government's shortage occupation list so that the NHS can recruit from overseas and secure safe staffing of services."
Viewers in England can see more on this story on Inside Out on BBC One at 19:30 GMT.