May 13, 2017
NHS cyber-attack: Amber Rudd says lessons must be learnt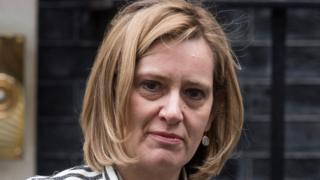 The NHS "must learn" from Friday's cyber-attack and upgrade its IT systems, the home secretary has said.
Amber Rudd told the BBC the services of 45 NHS organisations in England and Scotland had been disrupted in the global attack that affected organisations across the world.
She stressed there was no evidence patient data had been compromised.
The head of the UK's cyber security agency said experts were "working round the clock" to restore NHS systems.
The government emergency Cobra committee will meet on Saturday to discuss the attack.
'Never repeated'
The attack on the NHS, which left some hospitals and GPs unable to access patient data, was part of a worldwide cyber-attack that saw organisations targeted in 99 different countries. It involved tens of thousands of cases of ransomware, which locks computer files and demands money is paid to restore access.
It has been reported that up to 90% of NHS hospitals are still using the Windows XP programme, with experts suggesting that the 2001 operating system has made the NHS vulnerable to cyber-attacks.
"Cyber-security is a huge industry and we can all do better to protect our businesses and our personal information," said Ms Rudd.
"I would expect NHS trusts to learn from this and to make sure that they do upgrade."
She accepted Windows XP was "not a good platform" for keeping data secure and later told Sky News Health Secretary Jeremy Hunt had already instructed NHS trusts not to use the operating system.
Shadow health secretary Jonathan Ashworth said he had written to Mr Hunt, adding the public had a right to know exactly what the government would do to ensure such an attack was "never repeated again."
In response to the global attack Microsoft said it had rolled out a free security update to Windows XP, Windows 8, and Windows Server 2003 "to protect their customers".
Ms Rudd told BBC Breakfast she could not confirm all NHS files had been backed up.
"I hope the answer is yes, that is the instructions that everybody has received in the past. That is good cyber defence.
"We will find out over the next few days if there are any holes in that."
She added: "There may be lessons to learn from this but the most important thing now is to disrupt the attack."
NHS England said patients needing emergency treatment on Saturday should go to A&E or access emergency services as they normally would.
However, some trusts have asked people not to attend unless it is urgent. London's Barts Health NHS Trust, the largest trust in the country, has cancelled all outpatient appointments at its five hospitals on Saturday.
The NHS has not been affected in Wales and Northern Ireland.
---
Why do companies still use Windows XP?
By Chris Foxx, technology reporter
Many jobs can be done using software everyone can buy, but some businesses need programs that perform very specific jobs – so they build their own.
For example. a broadcaster might need specialist software to track satellite feeds coming into a newsroom or a hospital might need custom-built tools to analyse X-ray images.
Developing niche software can be very expensive: programming, testing, maintenance and continued development all adds up.
Then along comes a new version of Windows, and the software isn't compatible. Companies face the cost of upgrading computers and operating system licenses, as well as rebuilding their software from scratch.
So, some choose to keep running the old version of Windows instead. In some businesses, that's not a huge risk, but in a hospital the stakes are higher.
---
Ciaran Martin, who leads the National Cyber Security Centre – part of GCHQ – said it was doing "everything in our power" to get "vital services" back up and running.
Those responsible have not been identified yet.
He told the BBC: "It's important to understand that cyber attacks can be different from other forms of crime in that their sometimes highly technical and anonymous nature means it can take some time to understand how it worked, who was behind it and what the impact is."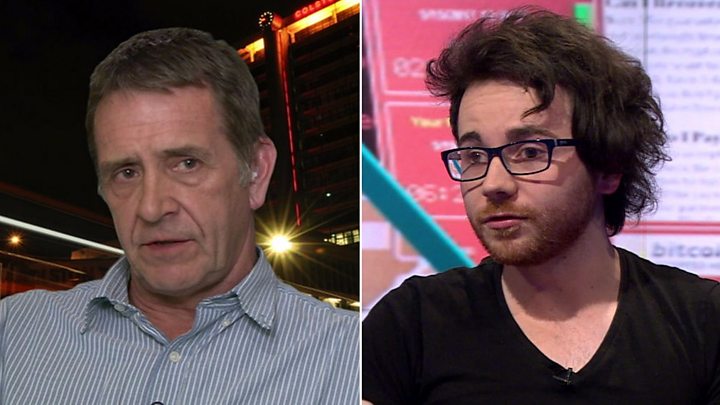 Some experts say the attack may have been built to exploit a weakness in Microsoft systems that had been identified by the NSA and given the name EternalBlue.
The malware used in the attack is called WannaCry and attacks Windows operating systems.
It encrypts files on a user's computer, blocking them from view, before demanding money, via an on-screen message, to access them again.
The demand is for a payment of $300 (£230) in virtual currency Bitcoin to unlock the files.
The virus is usually covertly installed on to computers by hiding within emails containing links, which users are tricked into opening.
Security chiefs and ministers have repeatedly highlighted the threat to Britain's critical infrastructure and economy from cyber-attacks.
'Hit the go button'
The former director for intelligence and cyber operations at GCHQ, Brian Lord, told BBC's Newsnight that the NHS was particularly vulnerable to such attacks because of its ageing IT systems.
"Also [it has] very, very complex interconnectivity between surgeries, trusts, boards and so on," he said.
"So, as a consequence, there is an awful lot of openings for delivery of this type of basic malware."
Convicted hacker Jake Davis also told the programme: "The most terrifying thing about this is how simple it is.
He said that two months ago Microsoft had issued a patch for the bug exploited by the virus, but some systems had not applied it.
Get news from the BBC in your inbox, each weekday morning
Are you a member of staff or a patient in the NHS? Have you been affected by this? If you are willing to do so, share with us by emailing haveyoursay@bbc.co.uk.
Please include a contact number if you are willing to speak to a BBC journalist. You can also contact us in the following ways: