Prince Park Tower Tokyo is offering an accommodation plan from July 14 to Sept. 30 especially for those who have a hard time sleeping during the hot and humid summer nights.
In collaboration with herbal specialty shop enherb owned by Tokyo-based Connecto. Co., the plan offers guests a relaxing time with luxurious scents of different herbs.
Amenities include: three different kinds of herbal tea, herbal shampoo and hair conditioner, bath herb, aromatic oils such as bergamot and lavender and breakfast delivered by room service prepared using select herbs.
The breakfast is composed of such items as apricot and Chinese wolfberry juice, sausage with herbs, and yogurt with iyokan citrus fruit and peppermint syrup.
The Prince Park Tower is surrounded by lush green parks that give the hotel a resort-like atmosphere, despite being in the heart of the capital. Guests can also enjoy close up views of Tokyo Tower's evening illumination. A stay at a panoramic twin or king room for two starts at ¥26,000 per person.
The Prince Park Tower Tokyo is two minutes from Akabanebashi Station and three minutes from Shibakoen Station. For further information and reservations, call 03-5400-1111.
Goldfish-themed treats offer sweet respite
Between July 7 and Sept. 24, The Gourmet Shop at Mandarin Oriental, Tokyo is delighted to offer two mesmerizing goldfish-themed summer sweets, to celebrate ECO EDO Nihonbashi 2017, an event that allows guests to rediscover the lives of people in summertime Edo.
The two sweets, "Aquarium" and "Mandarin Oriental Mizu Yokan," are presented beautifully and taste delicious. The Aquarium (¥600) is a combination of vanilla panna cotta with grapefruit and lime jellies, while the Mandarin Oriental Mizu Yokan (¥700) features lemon jelly and mizu yokan (adzuki bean paste dessert). The desserts look as though a goldfish is swimming in a glass.
Additionally, the Oriental Lounge by Mandarin Oriental, Tokyo offers the "Legendary Afternoon Tea Summer," which features miniaturized aquariums and sweet pastries, as well as savory prepared from summer vegetables. Between July 16 and Sept. 4, for ¥4,200, afternoon tea is served weekdays from noon until 5:30 p.m. For ¥4,800, an upgraded version, "Golden Fun Afternoon Tea Summer," is available on Saturdays and Sundays.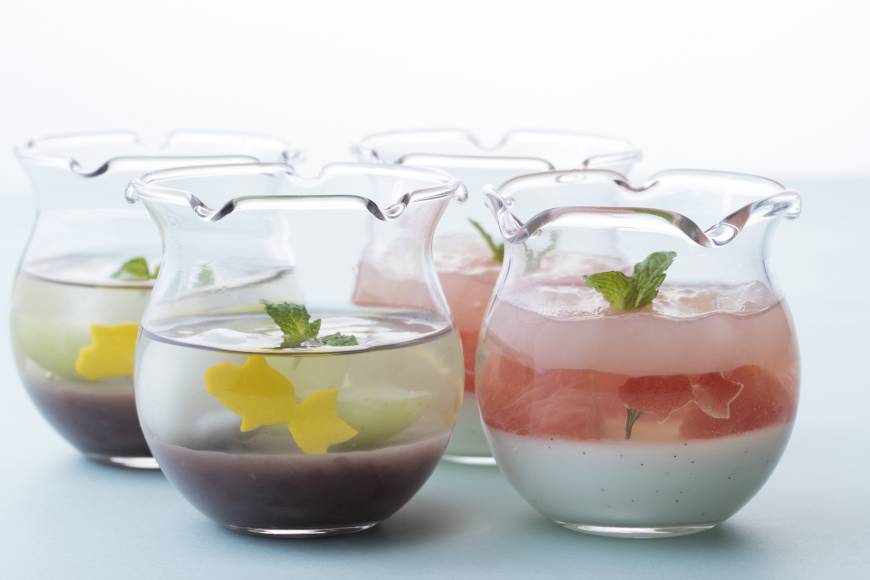 The Mandarin Oriental, Tokyo is adjacent to Mitsukoshimae and Shin-Nihonbashi stations. For more information and reservations, call 03-3270-8800 or visit www.mandarinoriental.co.jp/tokyo.
Fight summer heat with beer, Champagne
The Imperial Hotel Tokyo is back this summer with an upgraded "Premium Champagne Free Flow," after the addition of much-requested draft beer and delicious appetizers. The event, held at the hotel's lounge, bar and restaurant, is available until Aug. 31.
The free-flow plan takes place in the Imperial Lounge Aqua from 4 p.m. to 7 p.m. Priced at ¥6,000, for two hours, guests can enjoy free-flowing drinks such as Moet & Chandon Brut Imperial and Asahi Super Dry while eating smoked salmon and pineapple pinchos and taking in the scenery from the building's top floor.
The Rendez-Vous Lounge and Bar hosts a "World Beer Fair" every day from 9 a.m. to 1 a.m. The fair offers eight different beer brands (priced at ¥1,200 or ¥1,300 each) from seven countries all over the world.
The Parkside Diner will be the place to enjoy the "Beer Cocktail Hour." Every weekday after 5 p.m., the diner offers five kinds of beer cocktails for ¥950; and at ¥850 for those who order a hamburger or a sandwich.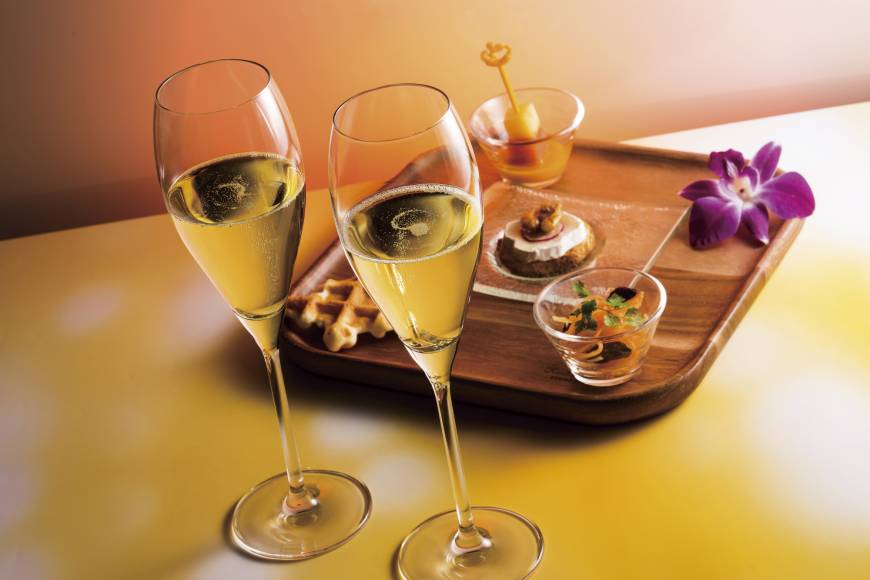 The Imperial Hotel Tokyo is three minutes from Hibiya Station and six minutes from Yurakucho Station. For more information or reservations, call 03-3504-1111 or visit www.imperialhotel.co.jp.